Nigerian superstar Burna Boy makes a statement to INEC to do the right things after yesterdays national elections in Nigeria.
He took to his Instagram page on Sunday, 26th February 2023, writing on his Insta stories calling on INEC to let the will of the people prevail in the 2023 national elections.
"Let Nigeria decide o! @inecnigeria. No try any result magic," the post reads.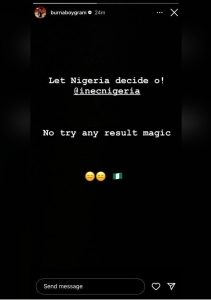 Nigerians went to the polls on Saturday, 25th February 2023 to vote for a new president and National Assembly members.
The elections which have been described as the most important since 1999 have 18 candidates vying to replace the outgoing President Muhammadu Buhari.
The three frontline candidates are the All Progressives Congress candidate Bola Ahmed Tinubu, People's Democratic Party candidate Atiku Abubakar, and the Labour Party candidate Peter Obi.
The election has witnessed allegations of violence, voter harassment and intimidation, and rigging in multiple states.